Watch this special message from Pastor Jeff.
---
TRANSITION TIMELINE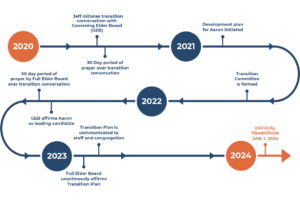 ---
TEACHING PASTORS

PASTOR JEFF MANION has served nearly 40 years as Senior Pastor of multi-campus Ada Bible Church in Grand Rapids, MI. Jeff is a gifted communicator, author and mentor who has guided and coached many pastors and ministry leaders. Jeff and his wife, Chris, have three adult children and are proud grandparents.

PASTOR AARON BUER has been in ministry for 20 years, 15 years at Ada Bible. Aaron began as a Student Ministries (Lifeline) Pastor, Teaching Pastor, Weekend Services Director and now Executive Teaching Pastor. Aaron loves building teams and creating collaborative, ministry environments. Aaron and his wife, Katie, have five children.
---
FREQUENTLY ASKED QUESTIONS
When did the transition discussion begin?
Jeff Manion first approached the Governing Elder Board (GEB) in July 2020. He asked the following questions:
Does the GEB view Aaron Buer as a potential candidate to succeed Jeff Manion as Senior Pastor at Ada Bible Church?
Could the GEB envision a scenario where Pastor Jeff can remain on the Ada Bible Church staff serving in a modified role after the transition to the next Senior Pastor?
Who has been part of the process and decision-making around transition?
Pastor Jeff began the conversation with the GEB. In time, a transition committee was formed, and leadership mentors were invited into the process with Pastor Aaron. The full Elder Board was then invited to pray over and affirm the transition plan.
When will the full transition be completed?
Pastor Jeff will move from his current position as Senior Pastor to his new role of Teaching Pastor on January 1, 2024. Pastor Aaron will assume responsibilities as Senior Pastor on that date.
How will this change affect Pastor Aaron's responsibilities?
As Senior Pastor, Pastor Aaron will lead the staff of Ada Bible Church. Under the direction of our Elders, he will be responsible for future leadership and ministry vision.
How does this impact teaching for the weekend services?
Pastor Jeff and Pastor Aaron plan to teach roughly the same number of weekends in 2023–2024. In 2025, Pastor Aaron will be teaching with greater frequency and Pastor Jeff with reduced frequency.
How will this change affect Pastor Jeff's responsibilities?
Pastor Jeff will remain full-time at Ada Bible Church and continue teaching at weekend services. As an extension of Ada Bible Church, Pastor Jeff looks forward to spending more time encouraging and coaching area pastors and leaders.