WINTER THRIVE GATHERING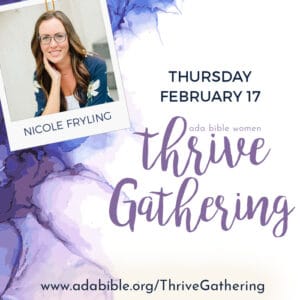 It's hard to witness anxiety in ourselves or others. But what if this is where God wants to do some of his best work?
Join other women for dessert + a special message by Christian Counselor and Ada Bible attender Nicole Fryling as she speaks on growing our faith in the midst of anxiety.
WINTER THRIVE GATHERING
Thursday, February 17, 2022
7 – 8:30 PM
East Paris Campus + online
$5 suggested donation for this event
In-person Registration
Online Registration
Have questions about the Winter Thrive Gathering? Send us an email.